Happy New Year Everyone!
by the time I'm writing this post, some people on the different part of the world haven't celebrate the New Year.
Yesterday, on New Year eve, I just remember that I haven't updated this blog for way too long. A year was about to pass without me ever hold the crochet hook. So instead of working (YES, I was at the office on New Year Eve), I started and finished this amigurumi. I did finished it before New Year, but I just took the photos this morning.
The amigurumi is based on
Drawa
, the first version of Asian Games 2018 Mascot. Drawa is a Cendrawasih which also called the bird of paradise. A beautiful bird from Papua. The design was announced just a few days ago and a lot of people unhappy with the design. They said the design is dull. Thanks to the social media, the Minister of sport heard that, so He announced that the mascot will be redesigned before the end of January.
Personally, I think the design is okay, it looks unfinished but could be improved. I don't hate the design, but after trying to crochet it, the tail design and the sarong design don't make sense.
How can Drawa use the sarong properly with his tails
?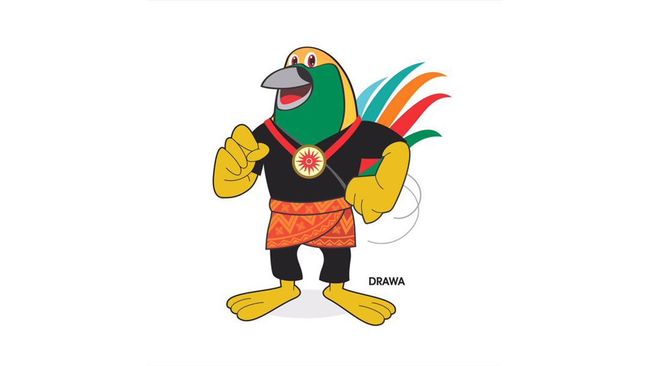 the real design which cause a lot of complains.
photos taken at my mother's garden. cute flowers right?
I made a lot of error, like the missing toe fingers and the tail is mirrored :p